This tutorial is going to assume that you already have the latest version of Umbraco CMS setup and installed. If not feel free to download and setup the latest version from umbraco.com/download, and the best part is that it's free and open source.
If you're unfamiliar with Umbraco CMS and are following along with this tutorial for the first time you can you read their easy-to-follow installation instructions directly from their website.
As part of this tutorial I've downloaded and setup a new blog using the blog umbraco skins package, feel free to setup and install any one of these for your first site.  I'm going to modify this slightly for my default domain later on.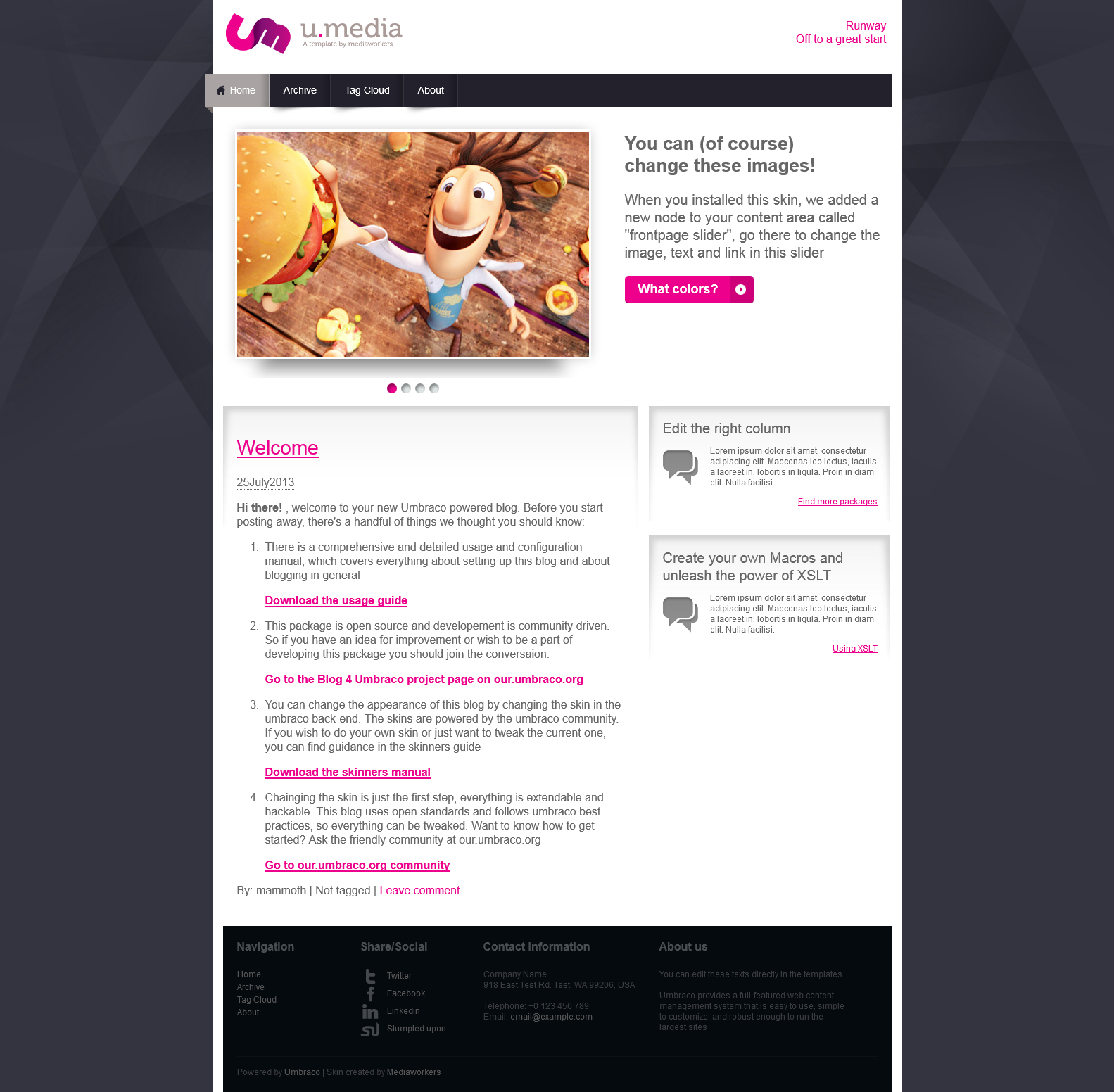 To demonstrate a multi-site configuration with umbraco, I'm going to use the following website domains on my local machine.

blog.mammothmedia.com.au

business.mammothmedia.com.au
I'm not going to go into details on how to do this since there are plenty of instructions available on the web.  You'll also need to setup IIS to point the new domains to your Umbraco installation, note that this is to the SAME umbraco installation.  Umbraco can handle multiple hostnames, we're going to show you how.
Create some templates
The first item on the agenda is to create some alternative templates so we can tell the difference between our two sites.
I've created some new templates called Business, and renamed the default templates to Blog.  This way I can tell the two apart when I setup the content later.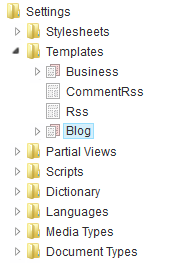 Add new allowed templates to the current document types
Since I'm going to be re-using the same document types for my 2 examples, we'll need to add the new templates to the allowed structure of the existing document types.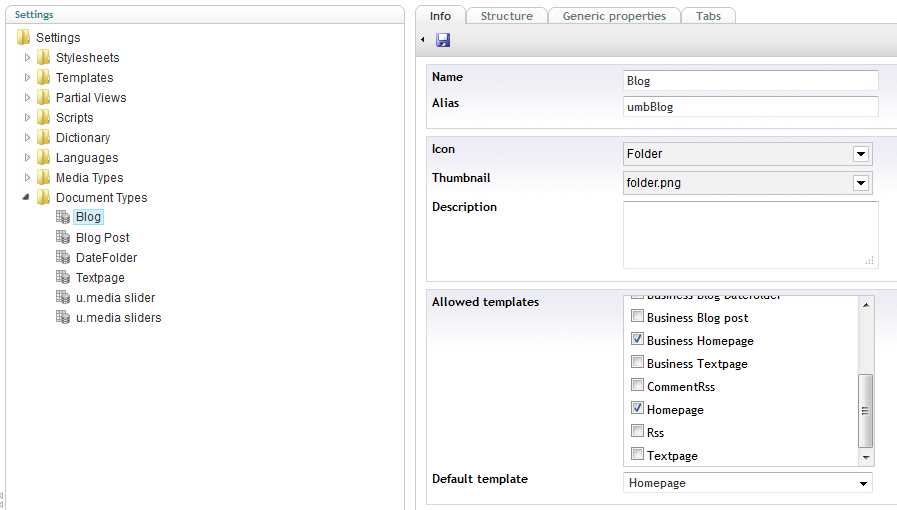 I prefixed my new templates with Business in front so I can tell which ones are going to use the business template.
Create some content
We're going to separate our content in the Content tree by domain name.

If we right click on the new root domain folder and select "Culture and Hostnames" from the menu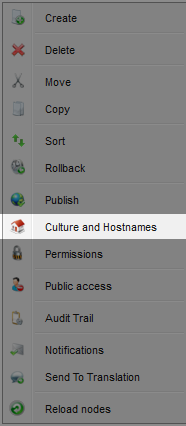 From there we add the associated domain name to the content and we're done from the Umbraco side.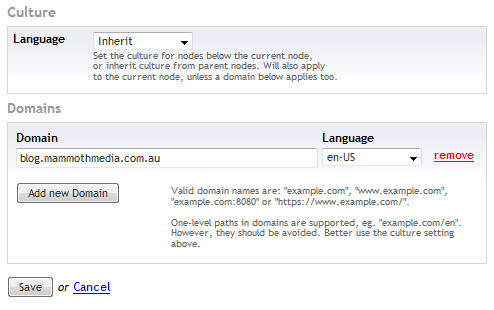 You'll have to do this explicitly for each domain.
Set the template for your documents
Business is going to be using the non-default templates which also uses a different style sheet.  So I'll need to set the template in the documents properties.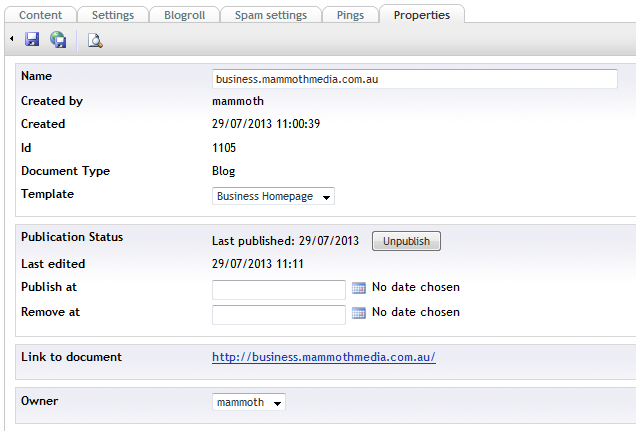 Make sure that you do the same for any document which has a different template.
Also don't forget to save.
Test it out
The final step is to test it out.  If I point my browser to blog.mammothmedia.com.au and I get the following website.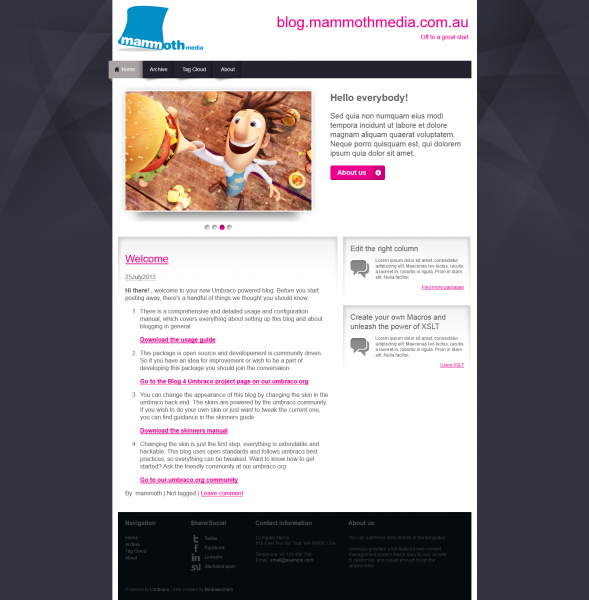 And for business.mammothmedia.com.au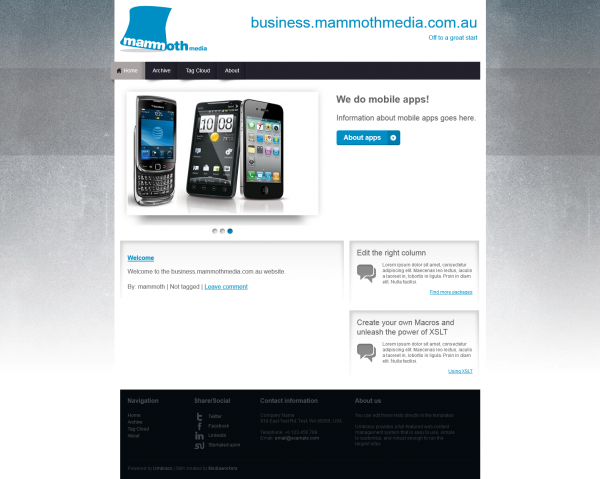 There you have it
Multi-site support with umbraco by example.